About Appel Insurance Advisors

Since 1992, the goal of Appel Insurance Advisors, and of its predecessors, has been to help individual and corporate clients worldwide obtain the highest quality people insurance™, life, health, disability income, and long term care insurance.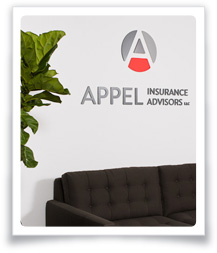 Operating as a licensed insurance advisor and licensed insurance producer with a physical office based out of Newton, Massachusetts our firm provides analysis, recommendations and implementation of insurance programs designed to help protect your family's wealth; as well as all aspects of insurance as it relates to a business. This site is not designed to solicit business, only to inform you of opportunities of which you may be unaware.
Every day, thousands of life, disability income and long term care insurance policies are purchased to protect families and businesses from the financial loss that would be suffered in the event of an early death, or disability. Regardless of why the insurance was needed (i.e. estate-tax reduction, family protection, business continuation, buy-out, charitable purposes, or key person protection), the best policy and insurer for the job is normally not the cheapest one; or the most expensive one; or the carrier that is the most recognized. It comes down to researching and pre-underwriting determination to find the best insurer for the case.
This site will show you some of the areas where we have been able to bring exceptional value to service professionals such as attorney's, accountants and investment professionals, venture capital and private equity financial service professionals, real estate developers, business owners, entrepreneurs, corporate executives, and people who care about the ones they love. We are always available to answer any questions you may have about your own situation or that of people you know.
Contact Info
Hancock Level Series 6 Producer One Gateway Center Suite 915
Newton, MA 02458
Map and Directions
Phone: 6173327900
Fax: 6179042684